Dates and Rates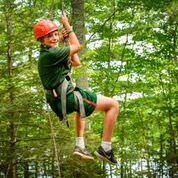 CAMP DATES 2020
FIRST SESSION
Arrival Day: Sunday, July 5
Two Week Session Sunday, July 5 – Saturday, July 18
Three Week Session Sunday, July 5 – Saturday, July 25
Five Week Session Sunday, July 5 – Saturday, August 8
Six Week Session Sunday, July 5 – Sunday, August 16
SECOND SESSION
Arrival Day: Sunday, July 26
Two Week Session Sunday, July 26 – Saturday, August 8
Three Week Session Sunday, July 26 – Sunday, August 16
TUITION RATE CHART 2020
Registration Fee
$500
(Must accompany application, applies in all cases, and is in addition to tuition rates below.)
Two Weeks
$5,800
Three Weeks
$6,900
Four Weeks (by special approval only)
$8,000
Five Weeks
$9,400
Six Weeks
$10,600
Last Three Weeks (Second Session: Sunday, July 26 – Sunday, August 16)
$5,500
Bedding, bath towels and trunk usage is included in tuition!
Multiple Siblings Discounts
We encourage brothers and sisters to attend camp together! We offer a tuition savings of $500 per family for enrolling a second child, and an additional $1,000 for a third child. Sibling discounts are not honored for two-week session lengths.
Discounted Last Two and Last Three Week Sessions
The Last Three Weeks (Second Session: Sunday, July 26 – Sunday, August 16) is offered only for these specific dates at the end of the season, when camper enrollment is smaller. Advantages to attend during this time period: more room in each cabin, waterski, wakesurf and wakeboard academies offered during one of the last two weeks; smaller number of campers in each activity; and a smaller ratio of campers to counselors.
Tuition Refund Policy
Tuition is due June 15, but if travel bans remain in effect, a family who is unable to attend camp for that reason may withdraw without penalty. Tuition is not refundable if parents withdraw a child after June 15, 2020 for a reason other than a travel ban; shorten a session during the summer season due to illness, homesickness; if a camper is not accepted due to failure to submit teacher recommendation forms or complete an interview; or if a camper is asked to leave due to a violation of the behavior code. No partial refunds will be given after June 15, 2020 for shortened sessions.
We suggest purchasing tuition insurance as listed in our Camper Guide and Parent Handbook to protect your tuition investment. Please contact robinhood@robinhoodcamp.com for more information.
Registration Refund Policy
The $500 registration fee per camper is fully refundable until January 1, 2020, after which time no refund of the registration fee is available.
Extending Session Length During the Summer Season
If you wish to extend a session while camp is in session, additional camp weeks are charged at $1,300 per week.